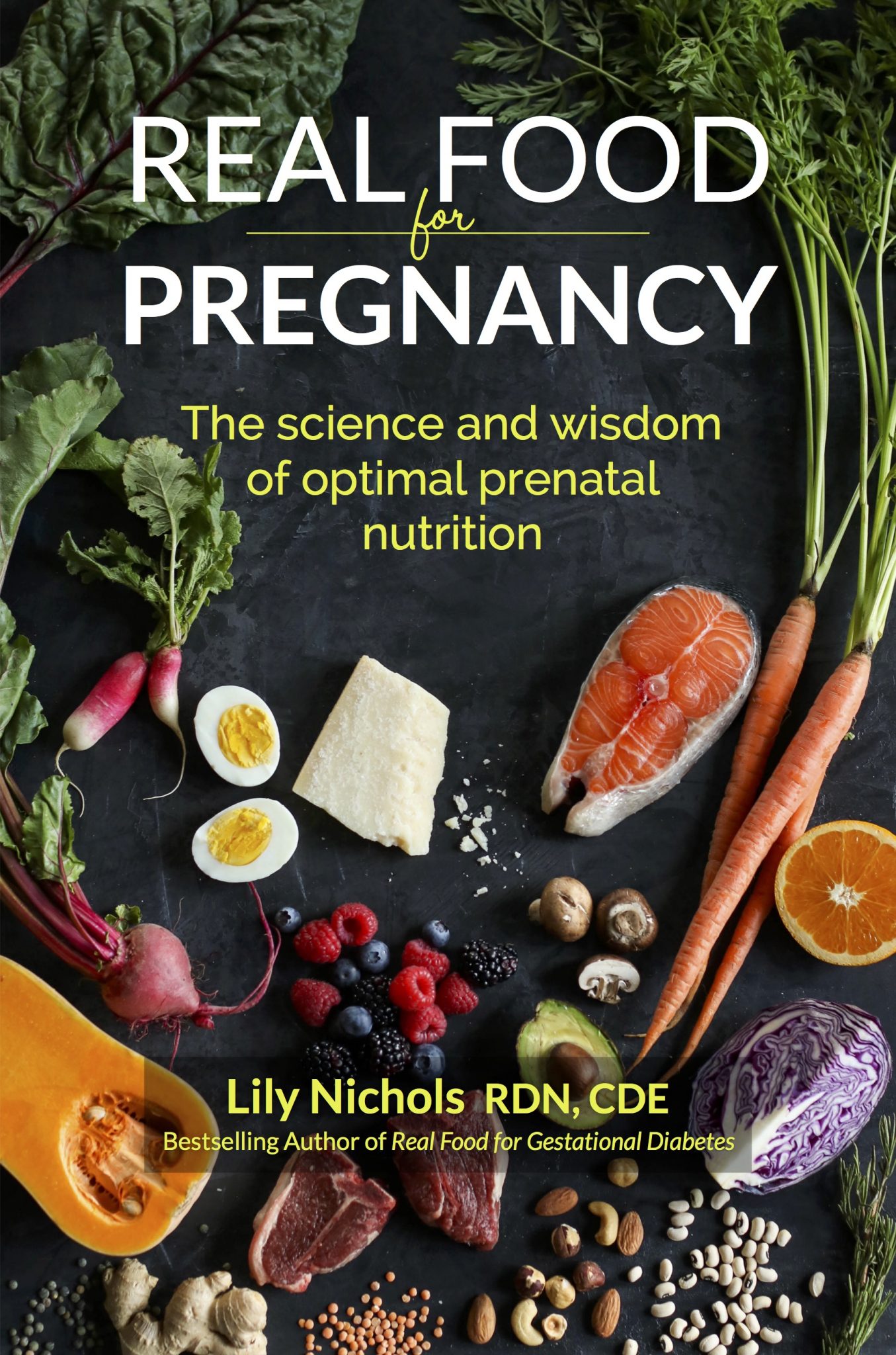 Order the book today!
Buy direct from Lily's book shop
Foreign Language Translations of Real Food for Pregnancy
Want a preview? Read the first chapter for FREE.
Prenatal nutrition can be confusing.
As a clinician and specialist in prenatal nutrition, I've taken a long and hard look at the science and discovered a wide gap between current prenatal nutrition recommendations and what's optimal for your health and your baby's health.
For example, deficiencies in choline, vitamin B12, folate, iron, and iodine (among others) can impair brain development. On the flip side, adequate intake of these nutrients is protective.
Sadly, if you follow conventional prenatal nutrition guidelines, you risk deficiencies in several of these nutrients.
In addition, the macronutrient levels promoted by conventional guidelines (high-carb, low-fat) can put you at risk for gaining too much weight, developing high blood sugar, and having other complications with your pregnancy.
In Real Food for Pregnancy, I tie together the latest research and compare it to the wisdom from traditional cultures, so you can be confident that your food and lifestyle choices are in your—and your baby's—best interest.
My advice is not hearsay; it's based on scientific research.
Real Food for Pregnancy lays out the evidence—930 citations and counting—on the benefits of real food, why certain foods are essential (and others are detrimental), and countless lifestyle tweaks you can make to have a smooth, healthy pregnancy. These same choices ensure that your baby receives all the nutrients needed for optimal development.
There has never been a more comprehensive and well-referenced resource on prenatal nutrition (believe me; I've looked long and hard).
What's covered in Real Food for Pregnancy:
How your nutrient intake affects the development of your baby and risk for complications.
Misconceptions of conventional prenatal nutrition: optimal macronutrient intake vs. current recommendations (why the current high-carb, low-fat recommendations are doing more harm than good), why salt is an essential nutrient (and how a low-salt diet can be detrimental), etc.
Nutrient-dense foods to "build a healthy baby" and which foods to avoid (including the latest evidence on fish and mercury, food safety and deli meat, etc.)
Why a vegetarian or vegan diet may not the be the best idea during pregnancy (and what nutrients/supplements to consider if you choose a vegetarian diet).
Nutritional management of nausea, food aversions, heartburn, constipation, preeclampsia, and much more.
Gestational diabetes – an evidence-based look at the pros/cons of all testing methods, plus, how to manage it with real food.
Lab tests, supplements, and other proactive steps to support a healthy pregnancy.
Prenatal exercise – what's safe, what's not, and why moving your body is so important.
The crucial role of mindfulness and stress management during pregnancy.
Practical steps to reduce exposure to common toxins.
Navigating the 4th trimester, including wisdom from traditional cultures, foods to emphasize, using nutrient-dense foods to support breastfeeding, physical recovery, and many more tips to help you thrive postpartum.
This book is the missing prenatal nutrition education that you've been searching for.
Pregnancy is full of unknowns, but one thing to remember is that good nutrition "stacks the deck" in your favor. Whatever the outcome, you know you did everything within your control to have a healthy pregnancy.
Eating a nutrient-dense diet of real food sets you up for a healthier pregnancy, a smoother recovery from birth, and an easier transition into motherhood. Let me show you how.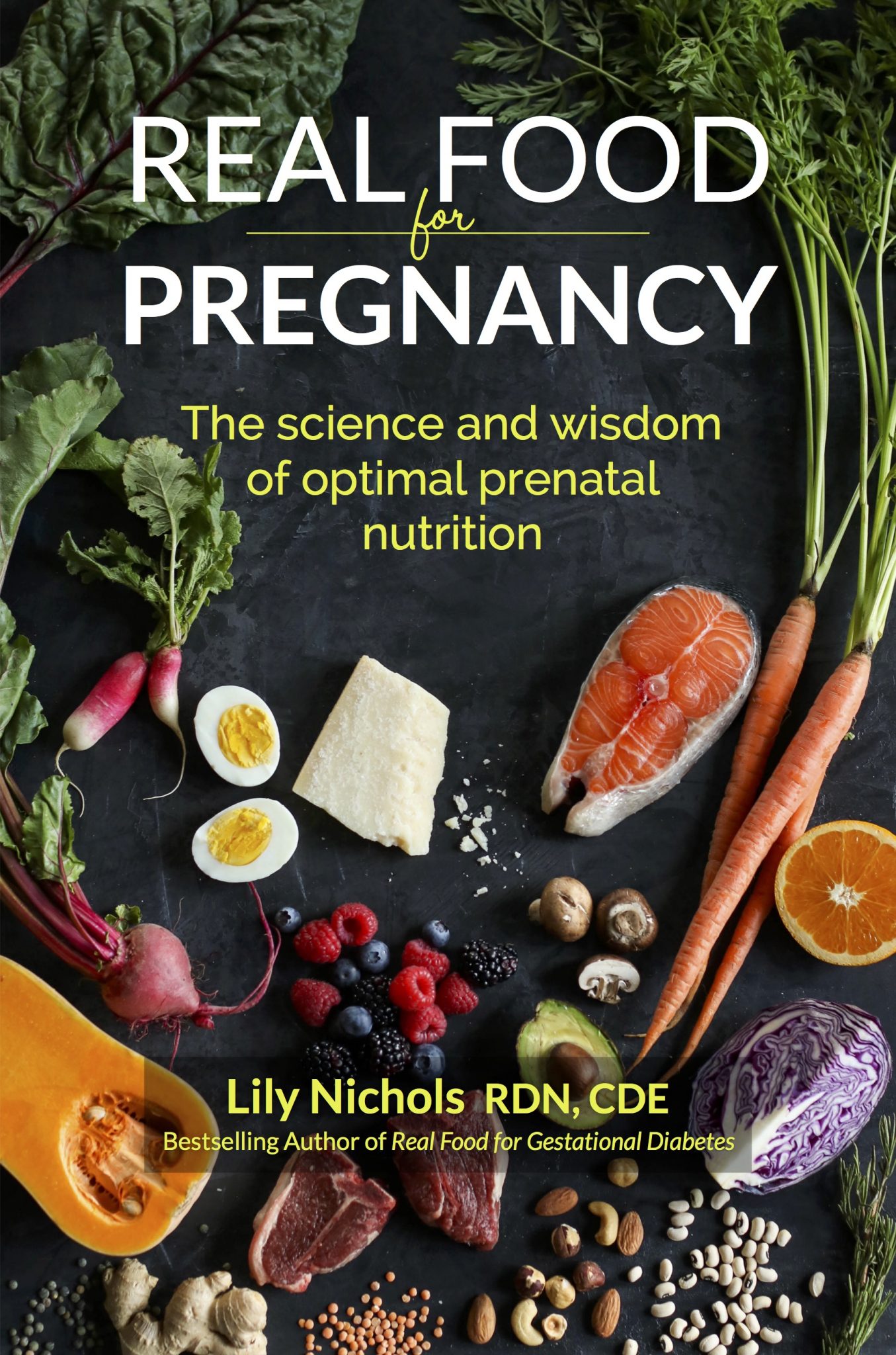 Order the book today!
Buy direct from Lily's book shop
Foreign Language Translations of Real Food for Pregnancy
Want a preview? Read the first chapter for FREE.
Practitioner Training
Are you a healthcare practitioner looking to expand your knowledge of evidence-based prenatal nutrition?
Lily offers practitioner training on nutrition for women's health. Choose from individual professional webinars from the Women's Health Nutrition Academy, or apply for the comprehensive mentorship offered through the Institute for Prenatal Nutrition™ and become certified as a Specialist in Prenatal Nutrition (SPN).
I'm so thrilled to read Real Food for Pregnancy. I absolutely love Lily's work. Her evidence-based approach to nutrition is not only relevant during pregnancy, but for the rest of your life! I think every birth professional (midwife, doula, etc.) should have a copy in their lending library for clients.
Real Food For Pregnancy should find its way into every medical school and prenatal clinic. Lily Nichols' first book, Real Food for Gestational Diabetes, is a staple in my teaching here at West Virginia University and has shifted how many in our department view nutrition. Her second book is encyclopedic; it's amazingly well-referenced and more in-depth than many textbooks. If mothers embrace Lily's advice, the next generation will hopefully suffer less obesity and diabetes.
No one has dissected the research on prenatal nutrition—and done so in the context of ancestral diets—to the depth that Lily Nichols has in
Real Food for Pregnancy.
If you want an evidence-based rebuttal to the outdated prenatal nutrition guidelines, look no further.
Real Food for Pregnancy
should be considered essential reading for any woman who is currently pregnant or planning conception in the near future. I have not found a similar text with the breadth and depth of discussion on prenatal nutrition. What sets
Real Food for Pregnancy
apart is how it logically explains the current scientific evidence that is disrupting modern nutrition science and pushing conventional dogma into a new direction. Lily Nichols' meticulously cited text provides not only a quick read but also plenty of details and references for those who wish to dig further. This book may very well serve as the tipping point leading to a sea change in nutrition science and medical care. I will be recommending it to my patients within my busy high-risk obstetrics practice.
Real Food for Pregnancy is the most important innovation I have seen in pregnancy healthcare in the seventeen years I have worked with expecting and new families. It leverages science and nutrition to help us all achieve the fundamental right of fulfilling our potential in the world. I will share that I stood up and cheered at regular intervals as I read this book. I hope you will, too, and that your provider will cheer with you as you exceed what most think possible in pregnancy health.
Lily Nichols has written a must-read for any woman or health professional interested in prenatal nutrition. During my first pregnancy I felt like I spent hours upon hours trying to research all of the information that is summed up beautifully in
Real Food for Pregnancy
. Lily questions conventional wisdom and offers new and practical, science-based recommendations to support optimal health for both mom and baby. I hope this book will inspire change in current prenatal nutrition guidelines.
Real Food for Pregnancy
is replacing my Prenatal/Maternal Nutrition textbook. The information meets every pregnant woman's needs and provides evidence-based "real food" solutions.
Finally, a book about nutrition in pregnancy that won't put you to sleep, and might, in fact, make your mouth water! No sign of the 'Pregnancy Police' here, as Lily brings together a straight-talking combination of 'sauce and science.' As a midwife, this book will be on my must-read list for every pregnant person I know.
Lily Nichols is like the Michael Pollan of prenatal nutrition.
Real Food for Pregnancy
is an enlightening and informative read that focuses on the quality of food rather than calories. Having worked with Lily, it's refreshing to hear from a dietitian I trust, who values research, truth, and real world application.
As a practicing CNM (midwife) for almost 30 years, I am thrilled to have found Lily's writing and expertise.
Real Food for Pregnancy
is one that we'll keep in stock at our clinic and will teach from during our early pregnancy classes. I really enjoyed the descriptions of the vitamins and minerals and how to get them from food. In my experience, too many people believe that prenatal vitamins will solve all of their problems or will guarantee the health of the baby.
I was recently pregnant for the first time (I unfortunately had a miscarriage) and this is exactly the book I had been searching for.
Real Food for Pregnancy
was a difficult book for me to read, in the best possible way. As a longtime vegetarian, it made me confront many of my food choices and preferences head on and acknowledge that they are not even close to optimal for pregnancy. Despite my internal conflict, I walked away from reading this book feeling incredibly empowered. While reading it I wrote down many questions, only to find that Lily devoted an entire chapter to answering my exact question later in the book. Lily provides all the tools pregnant women need to start optimizing their diets immediately. She lays out the science and interprets it into a series of actionable items that each woman can choose to do or not to do, depending on her specific needs.
Real Food for Pregnancy
covers a lot of ground. From debunking some of the way-too-common misconceptions about dietary fat, to the importance of micronutrients and where to find them in real food, to lab testing, to the eye-opening section on toxins, there is so much information packed into this book. I especially liked the discussion of food aversions and cravings; it's a curse for so many women, and I love how Lily encourages healthy choices and also some leeway at the same time. There is so much "lazy information" given out to save on time and costs of educating women; this book offers more detailed and proactive guidance than you'll find anywhere else. I want to give a copy to every single OBGYN office I see.
As a dietitian specializing in pregnancy and gestational diabetes, I consider
Real Food for Pregnancy
(along with Lily's previous book,
Real Food for Gestational Diabetes
), my go-to resource for research-backed nutrition information. I've had my doubts about the standard nutrition recommendations for pregnancy, but never had the time (nor patience) to dig through the research to the depth that I'd like. Not only did Lily do all the work for me (and you), she did it in a way that is easy to read and understand by anyone. Being in the field, I thought I had a pretty solid understanding of prenatal nutrition, but reading this book was a humbling experience. This is an extremely comprehensive book that I would highly recommend to healthcare providers, as well as ALL women, regardless of their stage of pregnancy (including those who are just in the planning stage). I have full trust in all of Lily's work and I am so glad she is sharing even more of her wisdom and expertise with us in this book. I'm already looking forward to reading it again.
I have read numerous books on nutrition and
Real Food for Pregnancy
is simply incredible. I always tell my patients that I don't practice out of popular books. Lily Nichols' book seems to fit in a different category as it is really of textbook quality; it could be called an easy reading version of an encyclopedia of nutrition. Lily is meticulously thorough in combining current scientific understanding with the wisdom of the past. Nutritional demands are undoubtedly most intense during pregnancy, and
Real Food for Pregnancy
offers crucial insight into the importance of eating a nutrient dense diet during this time.
This amazing book is long overdue. As a midwife, I am relieved to finally be able to recommend a one-stop resource for proactive nutritional guidance. It's reader-friendly and well-organized with loads of information, but at the same time not overwhelming. The information is based on solid research but also from the experience of a professional with a long history of success working with expectant and postpartum mothers. Lily Nichols' common sense approach is both accessible and effective.
Real Food for Pregnancy is great
for expecting parents and professionals alike, who wish to get up-to-date on the best ways to minimize complications and use nutrition for the best pregnancy outcomes.
I highly recommend
Real Food for Pregnancy
and will be making it "required reading" for all future mothers in my nutrition practice.
As a dietitian who specializes in women's health,
Real Food for Pregnancy
will be an invaluable resource for me and my clients for years to come. Lily has bravely called out where we have gone wrong with prenatal nutrition and artfully combines modern science with traditional wisdom in a must-read for anyone who is pregnant or planning to have a baby. She managed to cover everything I'd personally want to see in an effective prenatal text from genetics, to nutrient bioavailability, to misconceptions, and much more.
This book is a powerful investment for any woman wanting to ensure the health of herself and her unborn child. It is the perfect blend of science and practicality. I can't recommend
Real Food for Pregnancy
highly enough.
Real Food for Pregnancy
is the first resource I have found which dispels all of the myths surrounding prenatal diets and offers sound evidence-based recommendations for a better approach—all in one place. It pulls together so many topics and covers them in a structured way, with just enough detail to be informative and useful without going down a rabbit hole with the supporting science. Lily has distilled a ton of research into an easily digestible book, which will totally change the perspective of anyone who reads it. I wouldn't hesitate to recommend it to anyone who wants to give their baby the best start in life, whether they are trying to conceive or already pregnant.
Real Food for Pregnancy
is so much more than the title implies. It dives deeply into the importance of the foods that are the best for feeding your body and baby in pregnancy, but it also sheds light into so many other areas of life that can impact this special time. From food, to exercise, environmental toxins, breastfeeding, postpartum healing, and so much more, it is a treasure trove of research-based information wholly relevant to this important time in a woman's life.  As a mom of one hoping for more children in the future, this book is my new number one go-to for pregnancy and nutrition advice.
Honestly,
Real Food for Pregnancy
may override
What to Expect
when it comes to keeping nutritionally healthy before, during, and after pregnancy.
Real Food for Pregnancy
should be a prerequisite for anyone who plans on conceiving. I believe mothers as well as practitioners in previous decades may not have been aware about the information contained within this book, at no fault of their own. The thought that we can change the health of subsequent generations simply by changing how we fuel our bodies during pregnancy has become a great passion of mine. Lily presents the information in a way that even those without a science-based background can easily absorb. Thank you for your great work!
Real Food for Pregnancy
covers an astounding amount of research and makes it enjoyable to read, all while giving readers super practical steps to take to ensure their best pregnancies. I really enjoyed reading about the ancestral traditions surrounding pregnancy, and Lily masterfully ties them together with the most up-to-date research available on pregnancy nutrition. This goes way beyond the importance of folate… there are so many amazing science nuggets in here! Even the most up-to-date pregnancy science nerds are guaranteed to learn something (i.e. the uterus contains up to 800% more collagen at the end of pregnancy…woah!). This book is unique in how beautifully it bridges the gap from academia to real-life implementation. I am not aware of a more complete compendium of practical knowledge on pregnancy nutrition, toxin protection, and overall well-being. I'd recommend this book to all women in their childbearing years (and their practitioners). Getting this knowledge out there will lead to more healthy and happy pregnancies, and more happy and healthy mamas and babies!
When it comes to nutrition, it seems there is a new 'miracle diet' every week. Prenatal nutrition is just as confusing, but with the higher stakes of wanting to nourish a growing baby. So where can you look for real advice about prenatal nutrition? Advice that is scientifically based? Advice that encourages moms to eat real food and helps them carry a healthy, thriving baby? Look no further than
Real Food for Pregnancy
. Lily Nichols has gathered and analyzed vast amounts of current nutritional research and consolidated it into a comprehensive but easy-to-understand book. As a nutrition coach and mom of three, I can confidently say this is a book I wish every pregnant mom would read!
Real Food for Pregnancy, is a comprehensive book that covers everything a woman needs to know and do, to bear healthy children, to thrive during pregnancy and to recover fast and strong after birth. Lily Nichols, did an excellent job at covering food, exercise, supplements, mindfulness, environment and other factors pertinent to a healthy pregnancy.
Real Food for Pregnancy is a must read for all pregnant and soon-to-be pregnant women. Lily has combined age-old wisdom with relevant, contemporary research to empower women to have healthier pregnancies and babies through real, clean eating. Lily has redefined what healthy prenatal nutrition is that will benefit women and babies for generations to come.
As a dietitian, people often ask me about my thoughts on prenatal nutrition, however this definitely is not my area of expertise! I have been following Lily's work for a couple of years and appreciate that I have been able to share
Real Food for Gestational Diabetes
with friends and co-workers. I am thrilled to now also have
Real Food for Pregnancy, a
well researched and up-to-date reference covering the many other nutrition topics of pregnancy.
I'm a Registered Dietitian working in women's health and have been using Real Food For Pregnancy more than any other book or resource as a reference for all my clients. It is incredibly valuable to have so many scientific references in one source. I have always had a hard time finding "recommendations" that I agree with, and now I finally do. Thank you Lily!
Real Food for Pregnancy is the missing link of midwifery and obstetrical nutrition education. It is straightforward, easy to follow, and covers so much more than the traditional approach to calorie counting. As the title says, it puts real food at the center of pregnancy health and covers a wide variety of topics not easily found elsewhere. It helps pregnant women determine the right protein/carb/vegetable balance, and also how to put this balance onto an actual plate. It explains the science behind nutrition and digestion in a palatable way, and also covers non-food topics like supplements, artificial ingredients, and exercise. It appropriately questions common (often bad) advice about which foods to eat or avoid. Most unique about this book is its ability to unite many discomforts of pregnancy and medical tests that root back to food: heartburn, iron levels, blood sugar, constipation, dehydration, and stress. I wish that I had read this book in midwifery school. I originally read it to try and determine if it was a good patient resource; in the end, I learned a lot as a clinician. Thank you, Lily Nichols!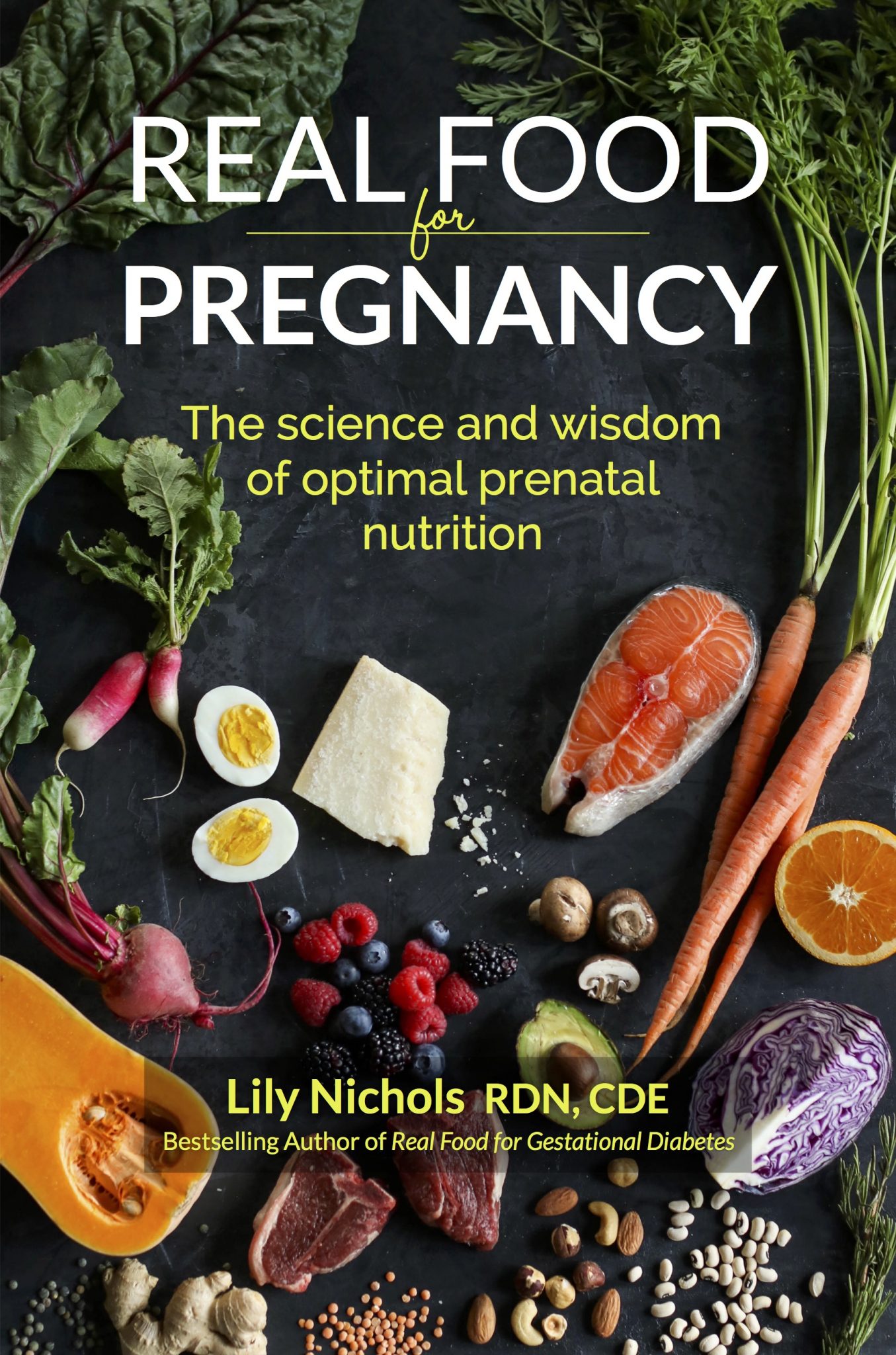 read the first chapter for free!